Based on the lavish menu for a celebratory reception hosted in honor of the queen of the United Kingdom during her only visit to Russia, we chose three dishes that you can prepare in your own kitchen.
Queen Elizabeth II made only one official visit to Russia, in October 1994. The menu for the reception held in honor of the queen at the Mariinsky Palace in St. Petersburg has been preserved (and we can reveal those dishes to you!).
The dinner began by serving St. Petersburg-style borscht with smoked ribs. Then the guest of honor was served Russian appetizers: a crepe with caviar, aspic, sturgeon with horseradish, Stolichny ("capital") Salad and beef tongue. Salmon and sea perch kulebyaka (or coulibiac) with red caviar sauce was served as the main course. For the dessert, a marzipan apple was made, with a mousse filling called "Golden autumn."
Here are those three classic recipes used by Russian chefs of the time - Stolichny Salad, St. Petersburg-style borscht and fish coulibiac.
Stolichny Salad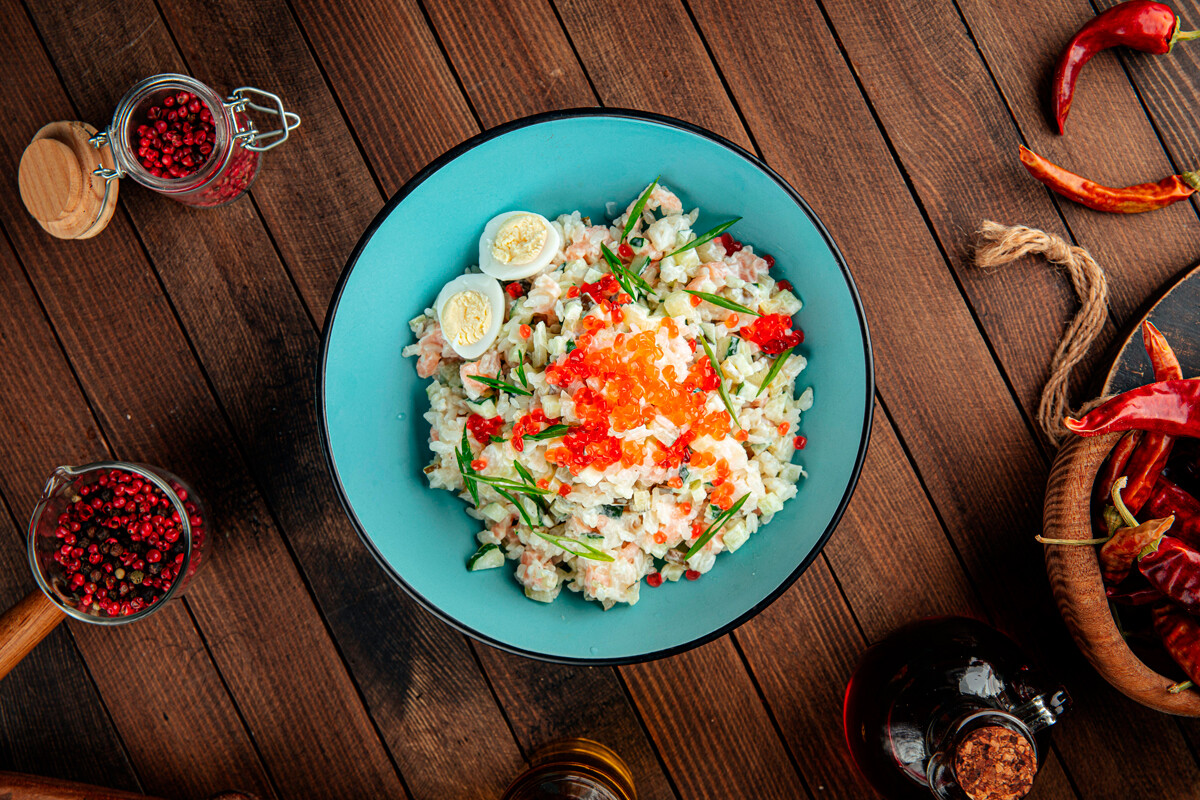 Legion Media
This salad was invented by a chef working at the Moskva Hotel in the middle of the 20th century. It's based on the Imperial era Olivier Salad, which was made with capers and crayfish tails. The 1955 Cooking book has two versions of Stolichny Salad with practically identical main ingredients, but there's only one with poultry or wild bird meat; while the other uses sturgeon, beluga or sevruga.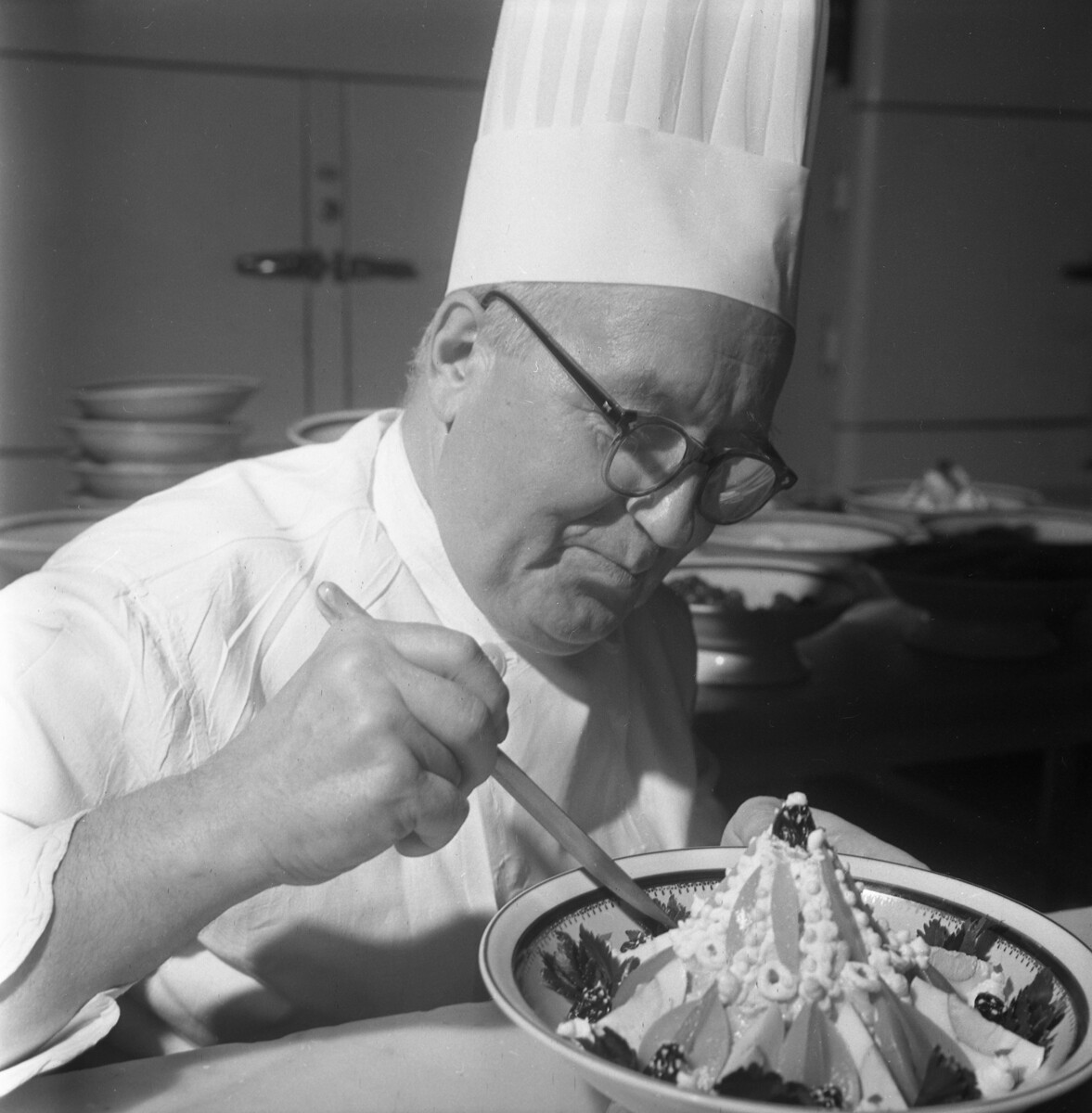 Grigory Yermilin, chef of the Moskva Hotel restaurant, garnishing his famous Stolichny salad.
V.Minkevich/Sputnik
Ingredients (one serving):
Poultry (chicken, turkey or wild bird filets) / Fish (sturgeon, sevruga or beluga) - 50-60 g
Potatoes - 60 g
Fresh, salted or pickled cucumbers - 40 g
Green lettuce - 10 g
Eggs - 2
"Southern" sauce - 15 g (or sweet-and-sour sauce)
Mayo - 70 ml
For decoration:
Pitted black olives - 10
Crayfish tails - 10
Canned crabs - 10 g
Pickles - 10 g
Pressed caviar - 10 g
Instructions:
Boil the potatoes in such a way so they won't fall apart (you can do it with the skin on). Hard-boil the eggs.
Cut up boiled poultry or fish filets into 2-2.5 cm pieces. In the same way, cut up boiled and peeled potatoes, one egg and cucumbers. Partially cut a cucumber into slices for decoration.
Finely chop green lettuce leaves.
Mix all the ingredients. Dress with mayo, and for flavor add "Southern" sauce (based on apple puree and tomato paste).
After mixing, put the salad in a bowl and form a heap; decorate with boiled egg slices or wedges and with green lettuce leaves. You can also decorate the salad with crayfish tails, canned crabs and black olives.
To decorate a salad made of poultry, use pickled vegetables and fresh cucumber slices, as well as pieces of poultry meat.
To decorate a salad made with fish, the salmon is cut into rhombuses and pressed caviar is added.
Don't be surprised if you order a Stolichny Salad in a cafe or a canteen and you'll see a salad with boiled beef without any crayfish tails or crabs. Over the last 40 years the recipe was significantly simplified in order to be affordable for the masses.
St. Petersburg-style borscht with smoked ribs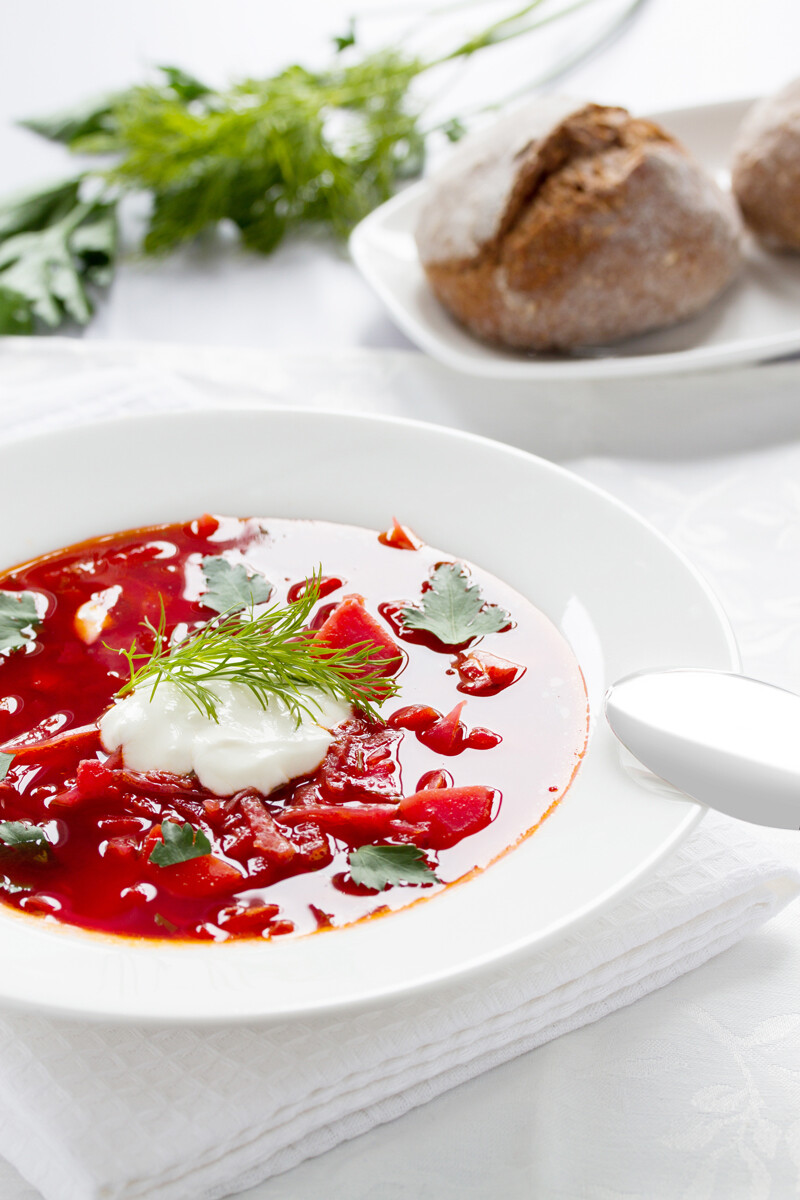 Legion Media
In Russia you more often hear about Moscow borscht with smoked meats or about Kuban borscht with a special type of beetroot. You probably haven't heard about a St. Petersburg-style borscht. But in the 1909 cooking book, The Practical Fundamentals of the Cookery Art by Pelageya Alexandrova-Ignatieva, a borscht recipe was published "as it's customary to prepare in St. Petersburg." Let's try it!
Ingredients (8-10 servings):
Beef brisket - 1 kg
Turnips, carrots, celery - 250 g
Beetroot - 500 g
Cabbage - 250 g
Flour - 2 tablespoons
Butter - 200 g
Salt, pepper, bay leaf - to taste
Tomatoes - 5-10 (or tomato paste - 100 g)
Pork ribs - 200 g
Water - 4-5 L
Pork salo (lard) - 100 g
Sour cream - to taste
Instructions:
Chop the beef brisket into portioned pieces so that every piece has a bone. Put the broth on the stove; after removing the foam, add salt and pepper.
Peel the beetroots, turnips, carrots and celery. Slice the vegetables into strips.
Peel the onions and chop finely. Sautee them in a deep skillet with butter.
Add beetroot to the onion and sautee with a lid on. If needed, add more butter. Add turnip, carrot and celery. Add two tablespoons of broth into the skillet.
Finely chop the cabbage.
When the sauteed vegetables are done (in about 10 minutes), add cabbage. Sautee for five more minutes.
Add wheat flour and fry slightly.
Combine the vegetables and the strained broth in a pot. Separately, rinse the meat from the broth with hot water and put it into the soup.
Put pork ribs, scalded with boiling water, into the soup, as well as peppercorns and a bay leaf.
Without a lid, cook the borscht on low heat for an hour.
Slice the tomatoes into wedges and add to the borscht. Let them sit in the hot borscht for half an hour.
Ten minutes before serving you can add boiled (or canned) white beans into the borscht to control its thickness.
Remove excess fat from the borscht and add a salo-based filling (finely chopped fresh or salted salo mixed with sour cream and several spoons of borscht).
Prepare the mix for borscht coloring: grate peeled red raw beetroot, cover with broth, and let sit for 15-20 minutes. Put the pot with the coloring mix on the stove and bring to a boil several times. Then strain through a sieve and add the resulting liquid into the borscht.
Half an hour before serving you can add fried and nicely sliced pieces of duck into the borscht.
You can also add slices of peeled sour apples and separately stew the potatoes (however, Elizabeth II didn't really like potatoes).
Kulebyaka with salmon, sea perch and caviar sauce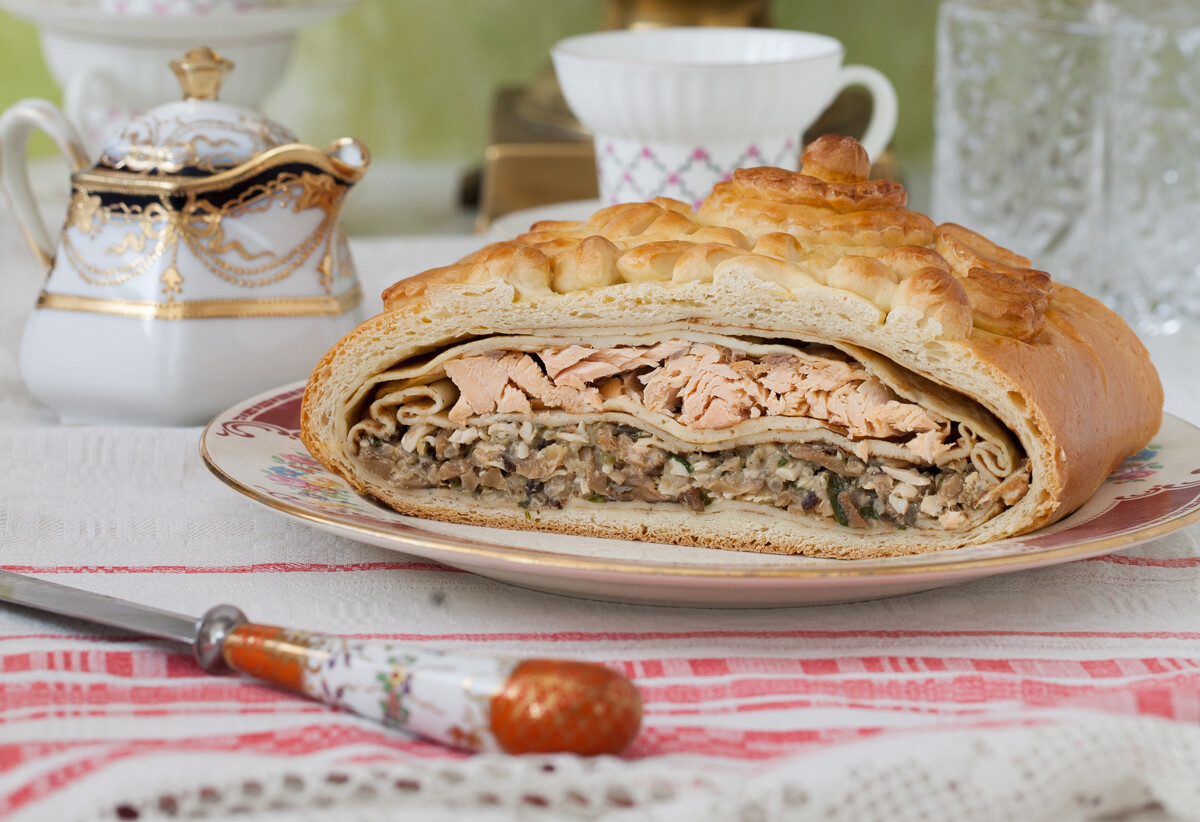 Legion Media
Kulebyaka is called the queen of the Russian table. This closed oval pirog was traditionally prepared for weddings, for Easter and other holidays. Kulebyaka is baked with different fillings in one pirog, separating them with thin pancakes.
Ingredients (for 6-8 servings):
For the pre-dough:
Milk - 400 ml
Yeast - 20 g
Wheat flour - 200 g
For the dough:
Butter - 200 g
Wheat flour - 600 g
Egg yolks - 2
Sugar - 80 g
Salt - 20 g
For the filling:
Grain with spices:
Emmer or rice - 300 g
Thyme - 2-3 twigs
Salt - to taste
Sea perch mince:
Sea perch - 1 kg (can be replaced with some other fish)
Onion* - 2
Butter - 100 g
Wheat bread - 100 g
Salmon with onion:
Salmon - 1.5 kg
Onion - 2
Salt - to taste
Pepper - to taste
Basil - to taste
Eggs with onion:
Eggs - 8
Green onion - 100 g
For the pancakes:
Wheat flour - 125 g
Milk - 250 ml
Eggs - 2
Salt - to taste
Sauce with caviar:
Red caviar - 1 tablespoon
Butter - 1 tablespoon
Heavy cream - 150 ml
Flour - 1 teaspoon
Black pepper - a pinch
Dried herbs - 1 teaspoon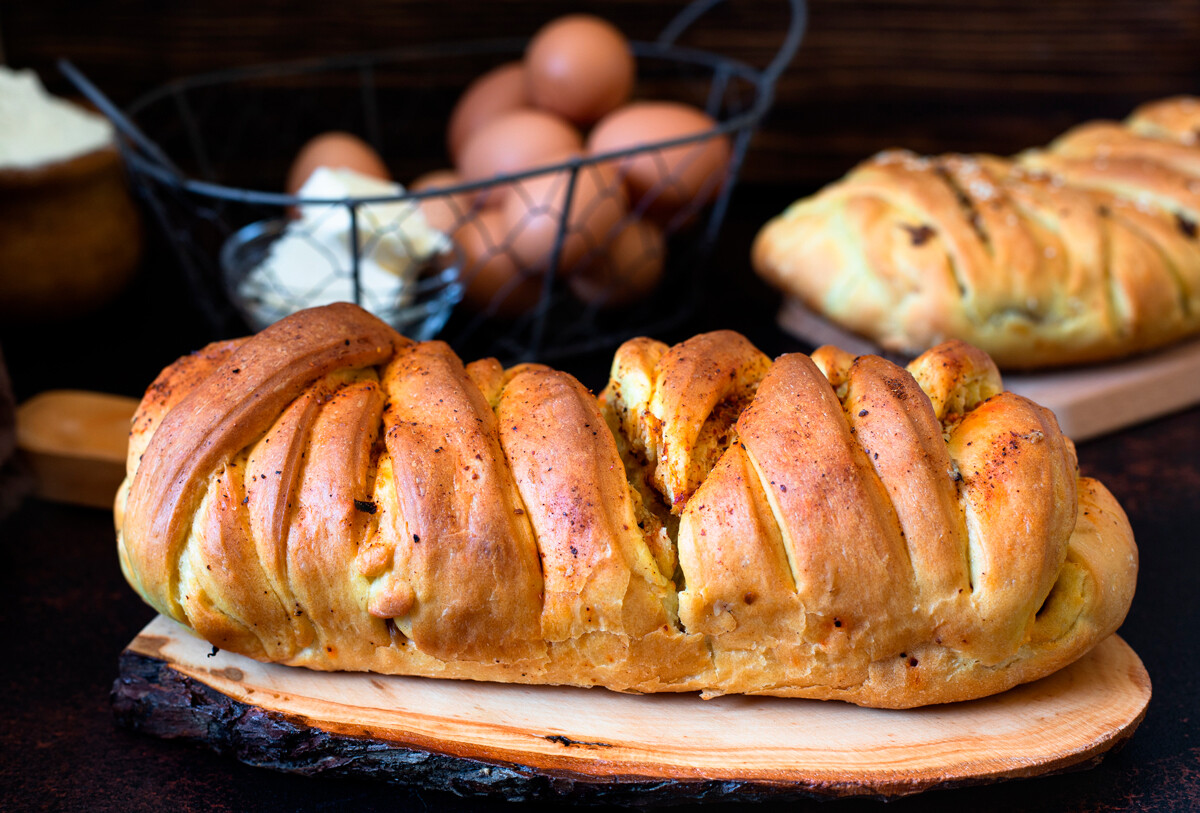 Legion Media
Instructions:
Sift the flour for the bread starter, dissolve yeast in warm milk, add flour and mix it all together. Cover the bread starter with a towel and leave in a warm place for an hour. The bread starter should increase in size 1.5-2 times. Add sugar and mix. Then add soft butter, egg yolks and salt. Slowly incorporate the flour and knead the dough. Cover the dough with a towel and leave in a warm place for an hour. Punch down the dough and leave for an hour more.
Boil your grain with thyme and let it cool. Crumble white bread without crust into heavy cream.
Slice the sea perch, boil it, and remove the skin and bones. Melt butter, sautee an onion in it. Add fish and fry it slightly, then let it cool. Pass the fish through a meat grinder along with the crumbled bread.
Chop an onion into small cubes and sautee it with finely chopped basil and olive oil. Slice salmon filet into large pieces, fry with the onion until done. Add salt and pepper.
Finely chop the green onions. Hard-boil the eggs, let them cool and then crumble. Mix everything together.
Pancakes: mix together all the ingredients. Let the dough sit for 30 minutes and make thin pancakes.
Divide the risen dough into two parts. Lightly dust the table with flour and roll the dough into a rectangle about 3-4 mm thick. Layer your baking dish with baking paper and butter it. Put the dough in the baking dish, leaving a border around the edge - in the end you'll have to cover the whole pirog with dough. Layer your dough with pancakes, otherwise the dough will get too wet from the filling.
Put in a layer of grain, press it down, and put a layer of pancakes on top. Then put in the layers of salmon, eggs with onions and sea perch mince, separating them with layers of pancakes.
Close the kulebyaka with dough, pinching the edges. You can sculpt a decorative floral ornament from the remaining dough (leaves and flowers). Brush it with egg yolk and let it sit for 10-15 minutes.
Bake the kulebyaka in a pre-heated to 200С oven for 25 minutes. Put a tray with water underneath it. Take the kulebyaka out of the oven, brush with egg yolk again and bake for 15-20 more minutes without the water tray.
Meanwhile, you can make a cream sauce with caviar. Melt butter in a saucepan, add flour and fry it slightly, constantly stirring. Add cream and mix well. Add salt, pepper and spices and let it simmer for 5-7 minutes on low heat. Take the sauce off the heat, let it cool and add caviar. Mix.
The kulebyaka is served hot. Carefully slice it into 4-5 cm-thick pieces. Pour caviar sauce on every slice.
*Elizabeth didn't eat onions, but in this recipe it gives the pirog its juiciness, so we recommend to include it.
Dear readers,
Our website and social media accounts are under threat of being restricted or banned, due to the current circumstances. So, to keep up with our latest content, simply do the following:
Subscribe to our Telegram channels: Russia Beyond and The Russian Kitchen
Subscribe to our weekly email newsletter
Enable push notifications on our website
Install a VPN service on your computer and/or phone to have access to our website, even if it is blocked in your country